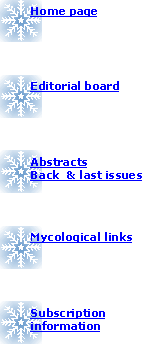 This Journal is published twice a year in January and July, having an annual subscription of $ 50.00 USD.





Air mail service requires an additional payment of $ 8.00 USD. Orders can be arranged through The Faxon Company (U.S.A., Canada), DAWSON (U.K.), SWETS subscription service (Holland), EBSCO (France, U.S.A.), Mundi-Prensa Libros (Spain), or PKT InfoTrader, Inc. (Japan).





Orders and payments must be payable to MICOLOGIA APLICADA INTERNATIONAL, and drawn on a U.S.A. Bank. Cancellations are not accepted. All subscriptions and advertising should be addressed to



MICOLOGIA APLICADA INTERNATIONAL:

- 445 Vassar Avenue, Berkeley, CA 94708, U.S.A.

- Apartado Postal 701, Puebla 72001, Puebla, Mexico.